Posted by Staff on Sep 17th 2018
STEAM (Science, Technology, Engineering, Arts, and Mathematics) subjects are only becoming more important as the world continues to move forward. The job market is filled with opportunities for individuals with a STEAM and STEM background to develop and work with all the latest innovations and technologies.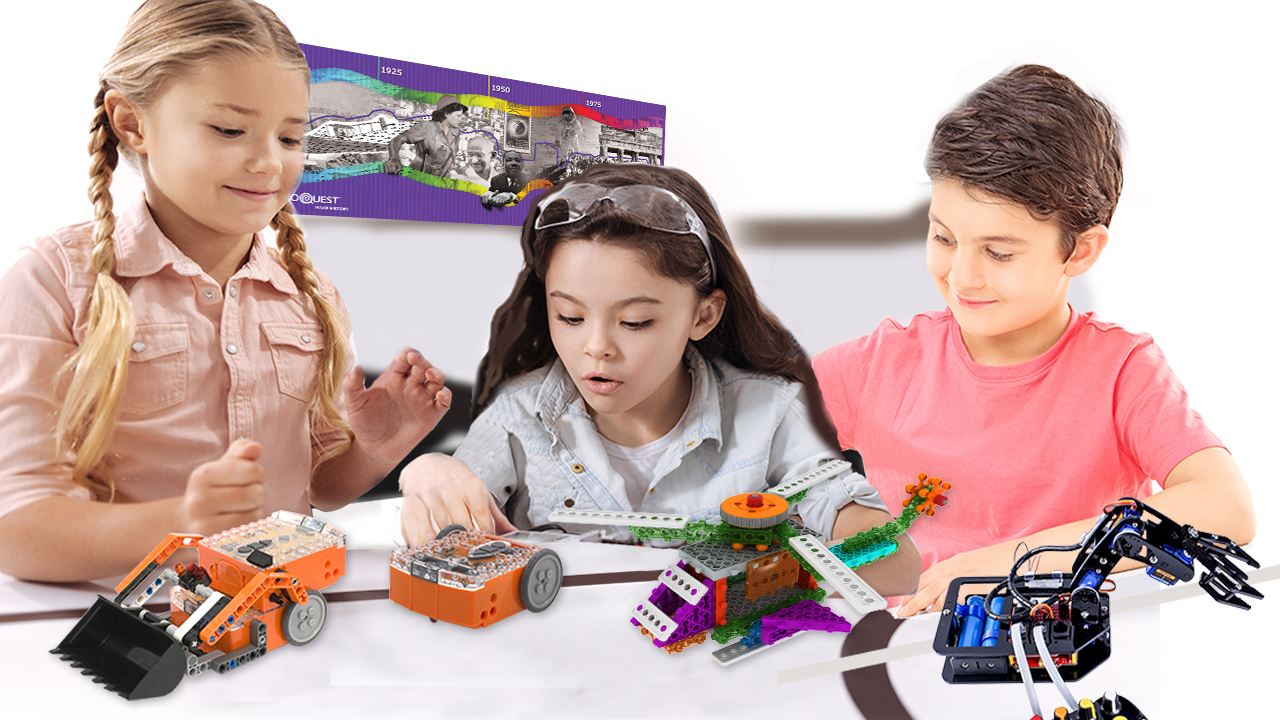 Teachers are tasked with introducing students to this curriculum in an engaging way to encourage more kids to pursue these subjects later in life. This is no simple task. Without the necessary resources, educators are forced to stick with textbook-based learning and creating hands-on, project-based lessons is incredibly challenging.
The list below includes some valuable educational tools to bring students out of the textbook and instead, put their knowledge into action.
Science: Scout Digital Microscope

This easy-to-use digital microscope is durable enough to be handled daily by younger children while still being a powerful and capable microscope for students of all grade levels. Scout features six different, pre-set magnification lenses on a vertical rotating wheel magnifying 100x, 200x, 300x, 400x, 500x and 600x. This innovative science equipment doesn't use a conventional eyepiece lens, instead, the magnified images or even magnified videos are displayed on a computer monitor via a USB connection.
Technology: STEAM SNIPS

Keeping up with the rapid advances in technology presents an interesting challenge for teachers. All of these advancements aren't just creating new hurdles in education, they also lead to amazing advancements in education technology like STEAM SNIPS. Developed to deliver a more immediate, interesting, and engaging way to learn how modern technology communicates and functions. STEAM SNIPS come with 74 different components, each able to work with every other module in the set. Students can experiment with different combinations, using their imagination, curiosity and creativity to create an infinite number of electronics products.
Engineering: Boost-R-Bots

STEAM curriculum is brought to life with this block-building robot engineering kit. Boost-R-Bots was designed to provide teachers with a platform to turn students into problem-solvers as they use creative thinking to construct these impressive robots. The kit includes all the components needed to create 15 different, more and more complex robots (one at a time) and incorporates a programming board, motors, and remote controller. This all allows Boost-R-Bots to be used across grade levels, from elementary school to high school. Students gain first-hand experience in science, technology, and engineering. Keep students engaged while they learn the fundamentals of structural engineering with the exciting, educational, and fun to use Boost-R-Bots
Art: 3X3D Magic Pen and 3D Magic Pen

STEAM subjects cover a host of complex subjects and it can be difficult to show how they connect to the real-world. Having a 3D Magic Pen and 3X3D Magic Pen will play a monumental role in overcoming this obstacle by adding context to any STEAM lesson. Put that engineering, mathematics, science, or technology knowledge into action with the help of 3D printing. Students can create suspension bridges, models of the subatomic universe, or anything else their imagination dreams up - all with these easy to use 3D printing pens
Mathematics: AirComfort Climate Tracking Device

In today's world, it's not just what people know but what they can do with that knowledge. It is vital kids have the skills to collect, assess and analyze data to make conclusions from different information. AirComfort is a completely unique device that exposes students to important concepts found throughout every STEM / STEAM subject. The device measures temperature and humidity in 5-40 minute adjustable minutes. The companion app collects, tracks and visually shows the variables associated with climate changes and automatically charts the information. Kids as young as elementary school age can draw conclusions from this data and without realizing it, learn essential STEM / STEAM skill sets.
According to the U.S. Department of Commerce Economics and Statistics Administration, over the last decade, STEAM occupations grew at a staggering 24.4%. Compared to 4% in non-STEAM occupations, it's clear why there's a need to help students develop these skills. Inspiring students at a young age is essential in order to keep the flames of interest alive as children move into higher education. Using the products listed above will give teachers a better platform to create a more engaging learning environment.
Students want to know how what their learning can translate over to the real-world. Oftentimes, STEM / STEAM subjects cover complex concepts that are difficult to visualize, touch, and experience. However, if students can see a tangible end result of their hard work and can put their knowledge into action, it can spark a lifelong passion for these important subjects.
To find resources, standards-aligned lesson plans and STEAM products visit HamiltonBuhl.com.
Locate an approved dealer, today!